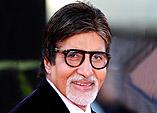 Megastar Amitabh Bachchan, who was to undergo a second surgery today, is still under observation. "He was supposed to undergo second surgery as he had
developed pain post the first surgery. However, there is no hassle as such...he is not critical but under observation," hospital sources said.
The 69-year-old actor revealed last night that he will have to undergo a second surgery. "Some more tests... more unpronounceable medication... and... another visit to the OT... operation theatre! Going to be a long stay. I refrain from giving greater details of my condition...in the West patient has the right to not disclose
- even to family!!, Bachchan wrote on twitter last night.
Here's wishing him a speedy recovery.