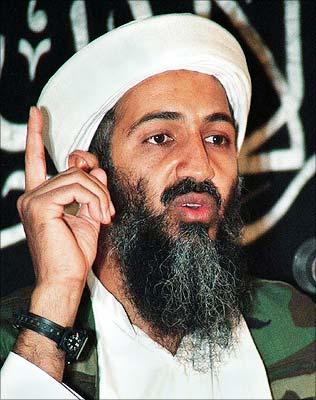 Al Qaeda chief Osama bin Laden, the most wanted terrorist in the world, is likely to be hiding in a walled compound in a Pakistani border town, according to a satellite-aided geographic analysis released Tuesday.
A research team led by geographer Thomas Gillespie of the University of California-Los Angeles used geographic analytical tools that have been successful in locating urban criminals and endangered species.
Basing their conclusion on nighttime satellite images and other techniques, the scientists suggest Osama may well be in one of three compounds in Parachinar, a town 15 km from the Afghan border, the USA Today reported.
Parachinar is the capital of Khurram Agency in Federally Administered Tribal Areas, of Pakistan. It is about 290 km west of Islamabad and is situated on a neck of Pakistani territory south of Peshawar close to Afghanistan. Parachinar is the closest point in Pakistan to Kabul and borders on the Tora Bora region in Afghanistan.
The research incorporates public reports of Osama's habits and whereabouts since his flight from the Tora Bora region of Afghanistan in 2001.
Osama's, the main accused behind 9/11 attacks in US, whereabouts are considered "one of the most important political questions of our time", the study, reported in the MIT International Review, notes.
The study's real value, Gillespie says, is in combining satellite records of geographic locations, patterns of nighttime electricity use and population-detection methods to produce a technique for locating fugitives.
The study also makes assumptions that Osama might need:
- Medical treatment, requiring electricity in an urban setting
- Security combining a few bodyguards and isolation that requires a walled compound
- Tree cover to shield outdoor activities from aircraft.